My friend and I went to University of British Columbia last Friday to see the old Supernatural filming locations.
We saw the 2036 Main Mall location which was used in S1E08 "Bugs" and S7E13 "Slice Girls", and for the Thank You video J2 made wearing only boxers. We also found the building on Iona Drive that was used for S2E15 "Tall Tales". (The building in Tall Tales)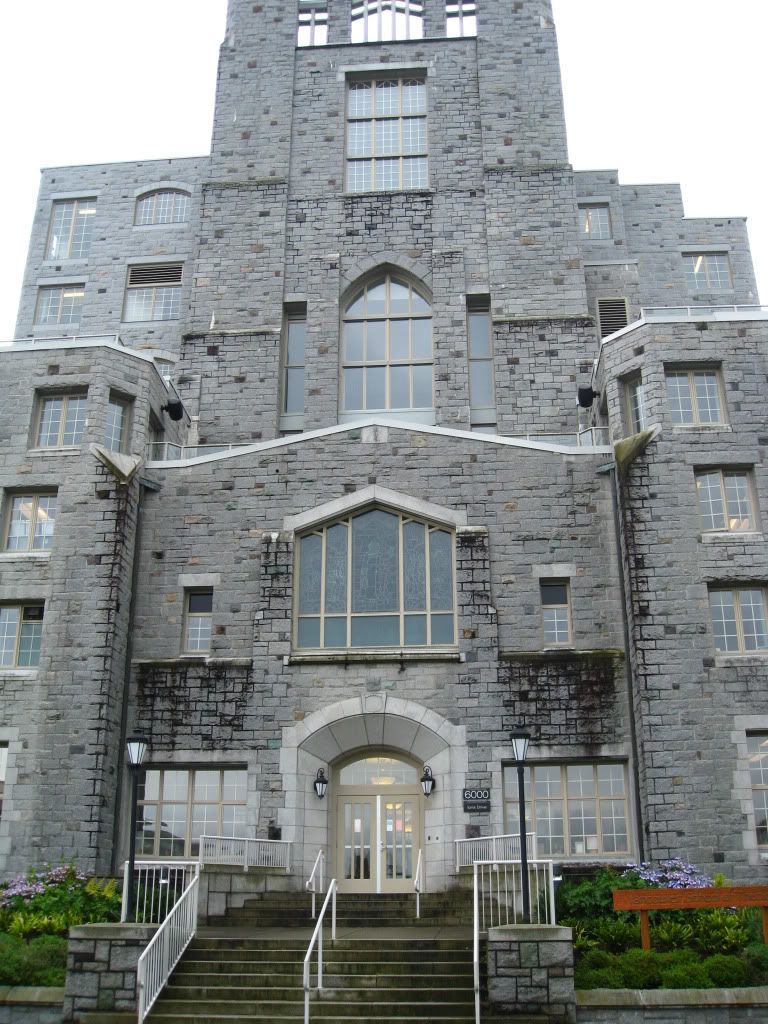 Then we saw this (the tiny orange sign on the tree)! The other picture is the sign outside of the garage.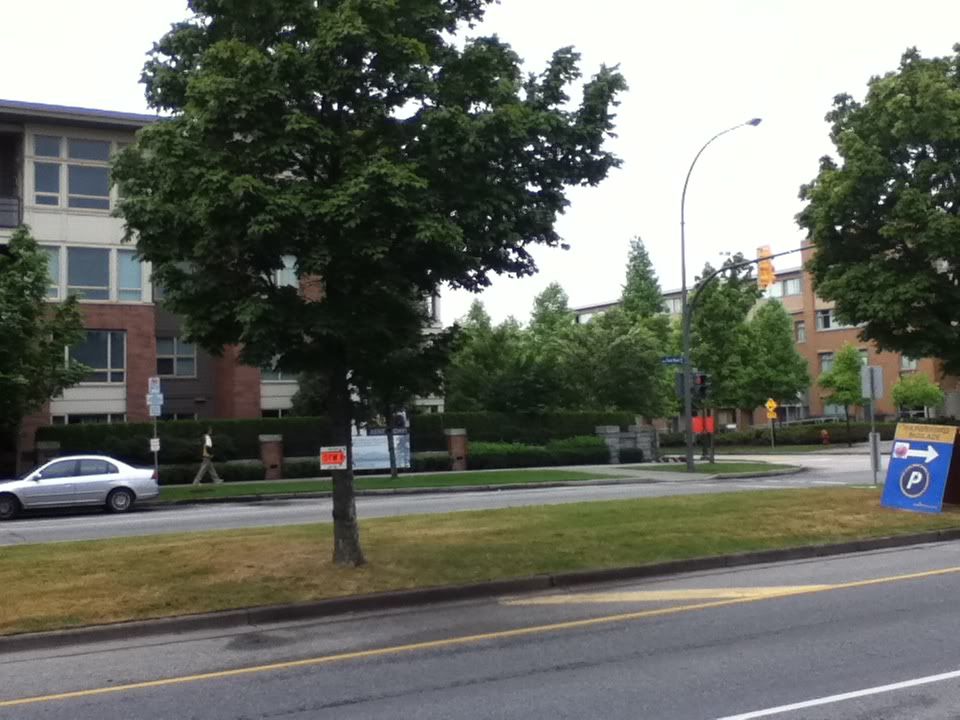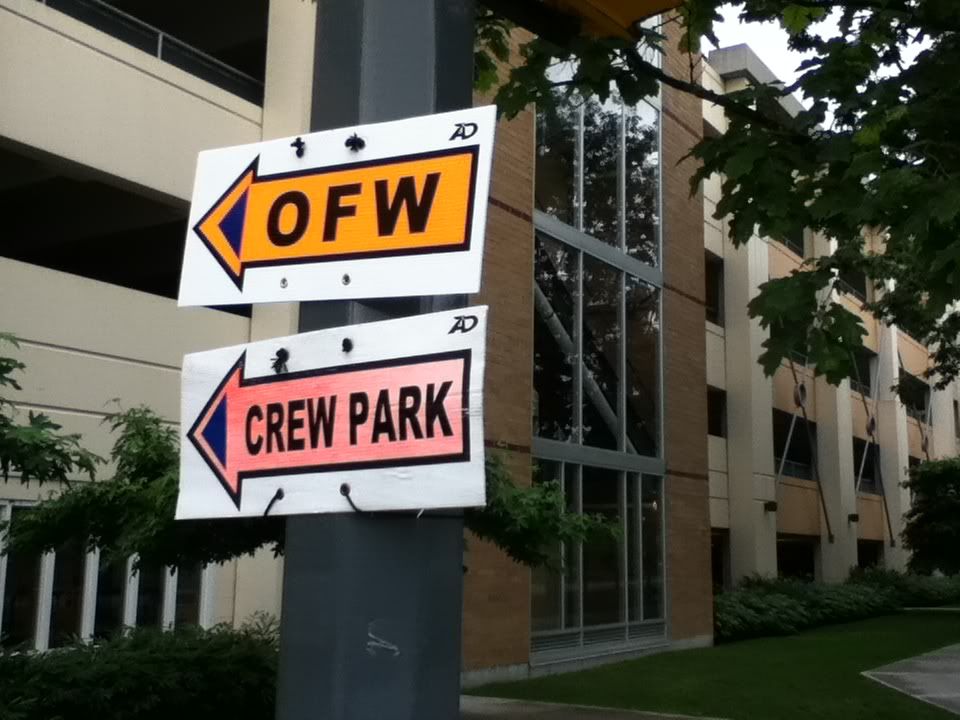 At first we thought maybe they were filming in the parking garage. But there was nothing going on there, except that there were vans coming in and out of it. When we followed the trail we found the group of trucks and trailers parked at a quiet road, next to a sport field covered with beautiful clovers. (Van coming in and out of the garage; crew trucks parked at the street side)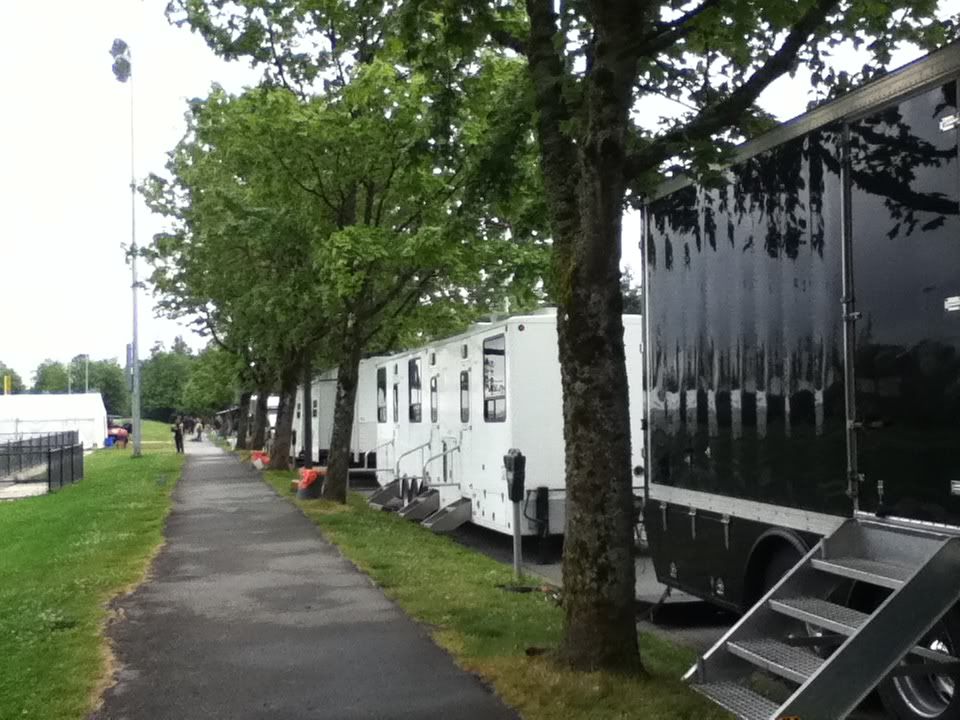 We walked by the equipment trucks, the food tent, the makeup trailer, and the costume trailer. While I stopped to talk to some extras waiting outside of the costume trailer to get dressed, my friend had walked 50 meters in front of me and didn't want to come back. She then told me that she saw Jared in the makeup trailer and was too excited/nervous to stay close. I went back to peak into the makeup trailer, and saw Jensen sitting at one end, and Jared at the other end of the trailer. (Left: The costume trailer; right: the makeup trailer.)
We talked to the PA/security girl walking up and down the pedestrian way outside of the trailers. She is very pretty and very sweet. She said that she was an SPN fan first, then she found this job. I thought she was very lucky, being able to work at the place she loved. Then I remembered how thankless being an extra could be, and remembered it was hard work, to stand outside, in this rainy and cold weather, for hours at time and really nothing to do and nothing to look at.
We stayed on the field next to the trailers, keeping a distance as we were instructed. Then we saw Cliff moving toward the makeup trailer, soon after that, Jensen came out, followed Cliff and went into his own trailer. After a little while, Jared also came out of the makeup trailer and went into his own trailer. J2 had identical trailers. - Later when we walked by, we saw they were not completely identical: Jared's had a big birthday cake sticker on its door, and something that looked like red cake icing smeared on the window. - Jared was wearing a white tee shirt. I don't remember what Jensen was wearing. My friends said he was in a grey hoodie. Needless to say that both of them looked very good. (Jensen's trailer and Jared's trailer. These two pictures are from my friend. Thank you!)
After about 10 minutes or so, we saw Cliff moving toward Jensen's trailer. - It's funny that how Cliff could be considered a precursor of Jensen's movement. And Cliff is so massive he was much easier to trace than Jensen. - Sure enough, Jensen came out of his trailer in a suit and got into a SUV. After a while Jared, also in suit, also got into the SUV and they left.
We didn't know what was going on and where they went. - Now I know that they went to the shooting location, duh! - My friend had to leave and I decided to wander around and try my luck. And I found them, right at the old filming location, 2036 Main Mall. I still can't believe that I found them! Because UBC has a huge campus! If I were there with a car it would be much easier though.
J2 were filming a scene where they walked in front of the building. Bunch of bystanders were watching. But when I talked to them, some of them didn't know about Supernatural. After a little while, J2 disappeared. And their stand ins were preparing the scene. - By the way Jared's stand in actor looked pretty good, too! Didn't get a good look at Jensen's stand in though. - At first I thought J2 left. Then, guess what, I saw Cliff hanging around. Yup, pretty good indicator that J2 were still around somewhere, probably retired in one of the tents. The bystanders started to dissipate. (Jared's stand in looks good.)
Several minutes later, J2 reappeared. Jensen jumped over a wooden bench to get to the filming lane. Jared was joking around with the crew. Unfortunately, when I got my camera ready, they were both professional and business like again. They filmed the scenes several times, and that was a wrap.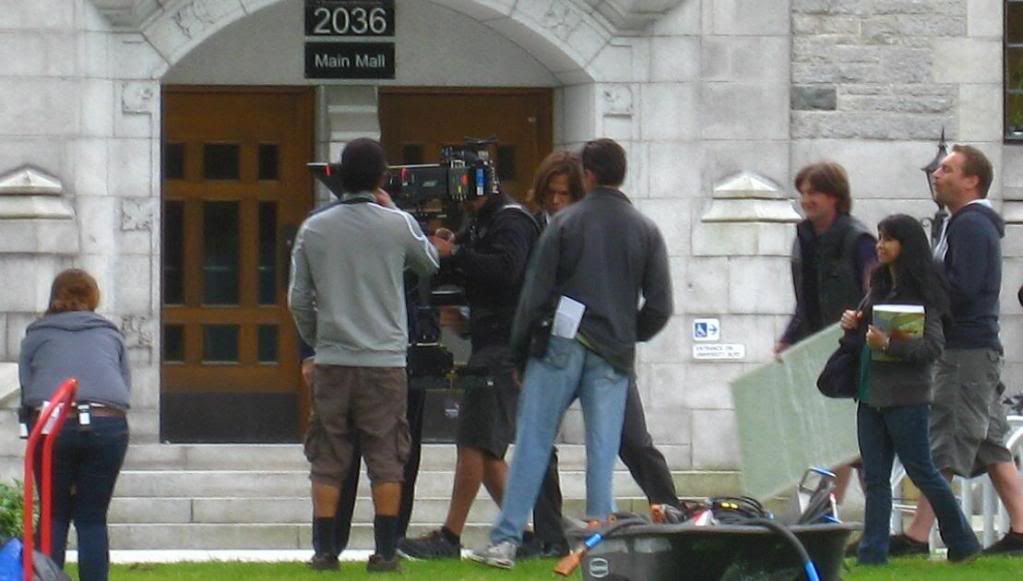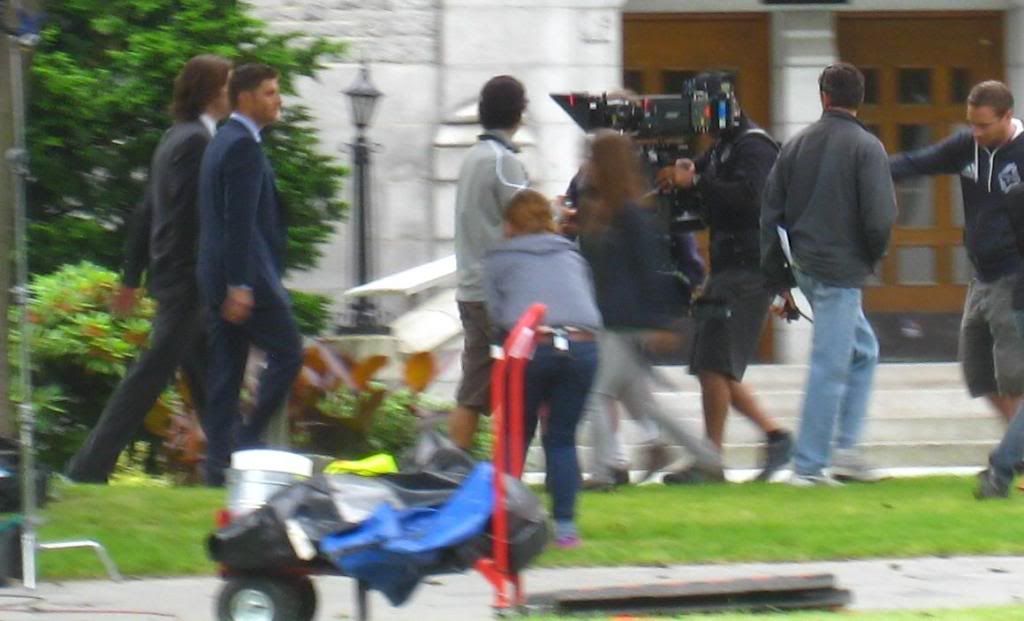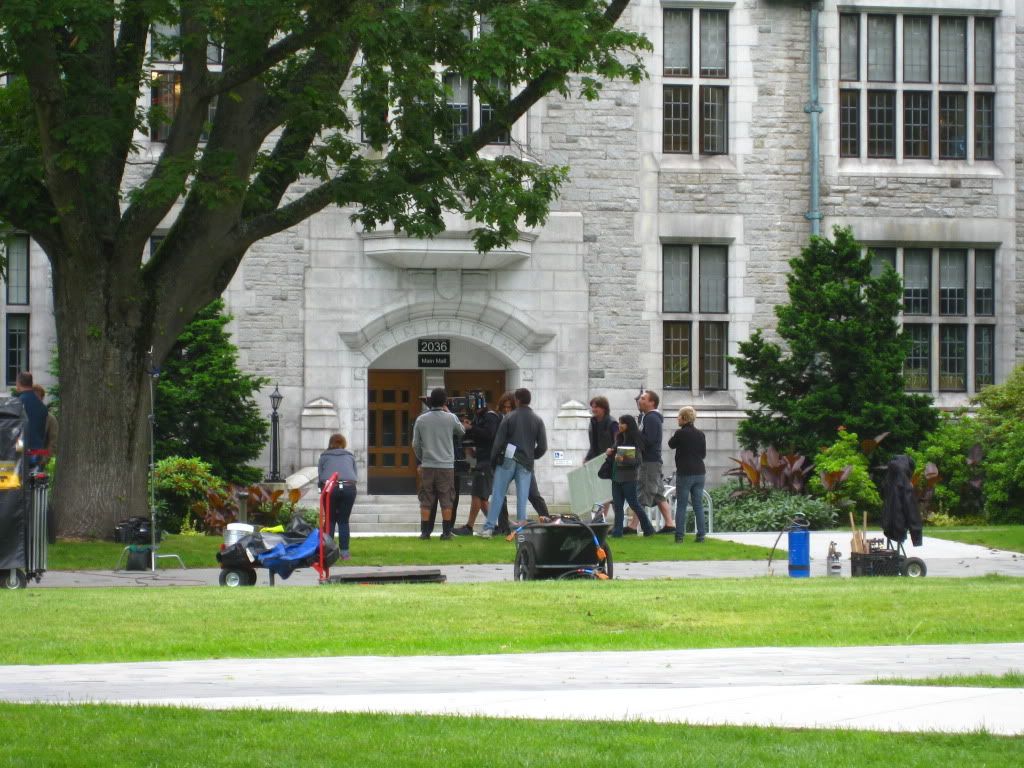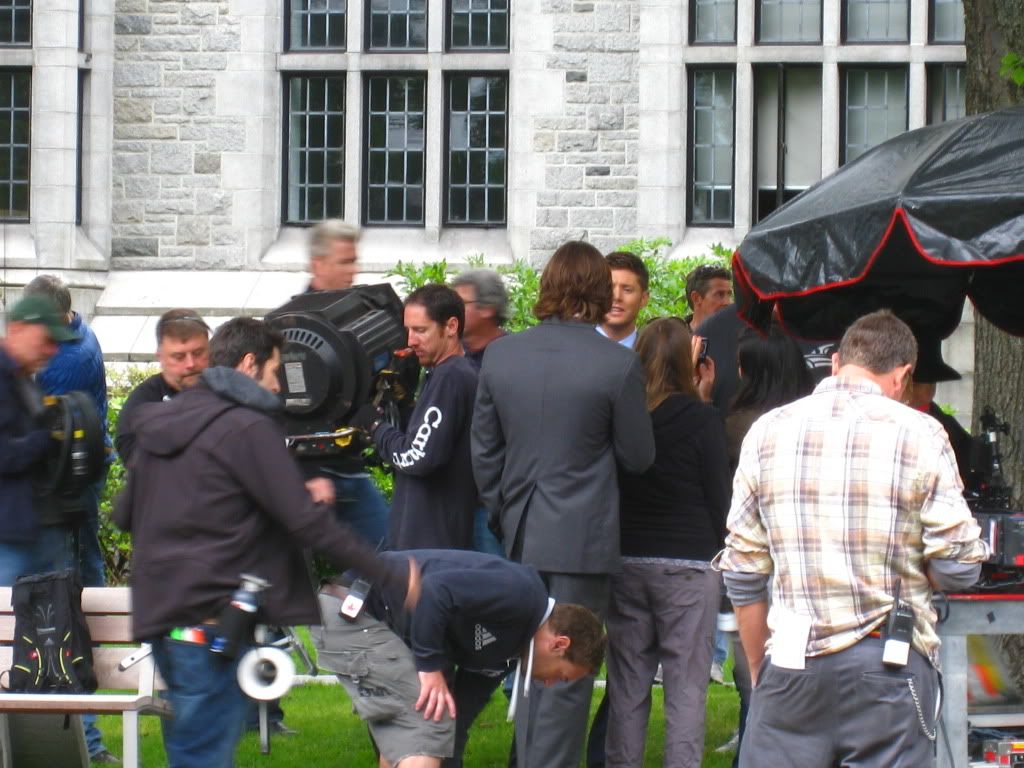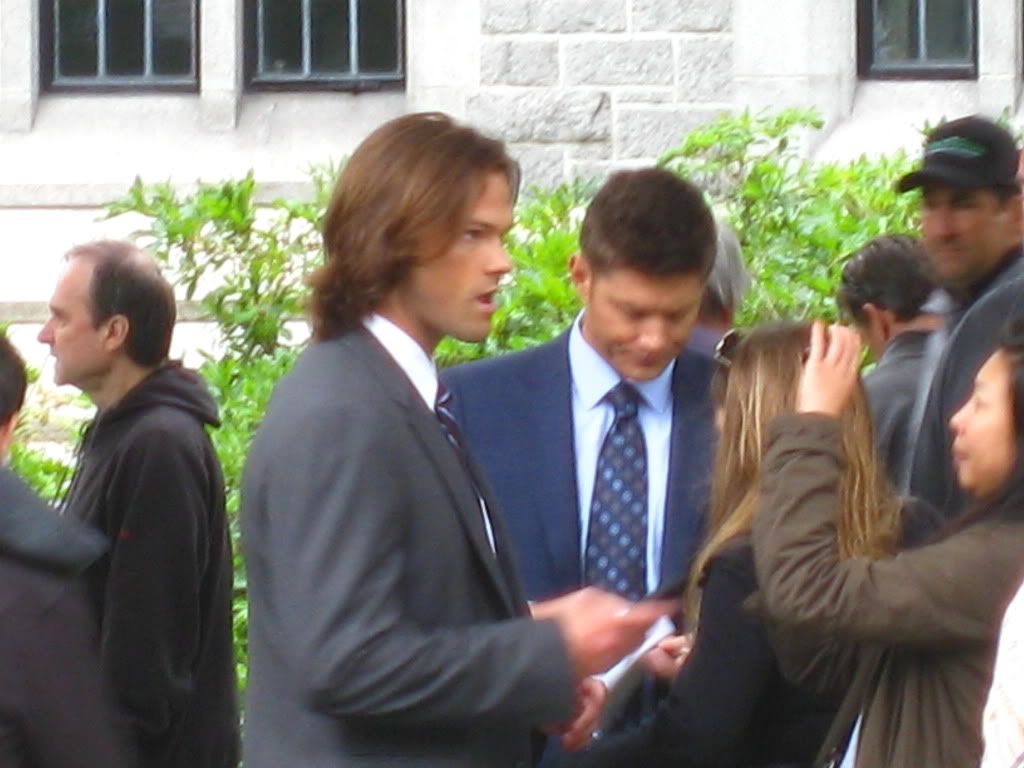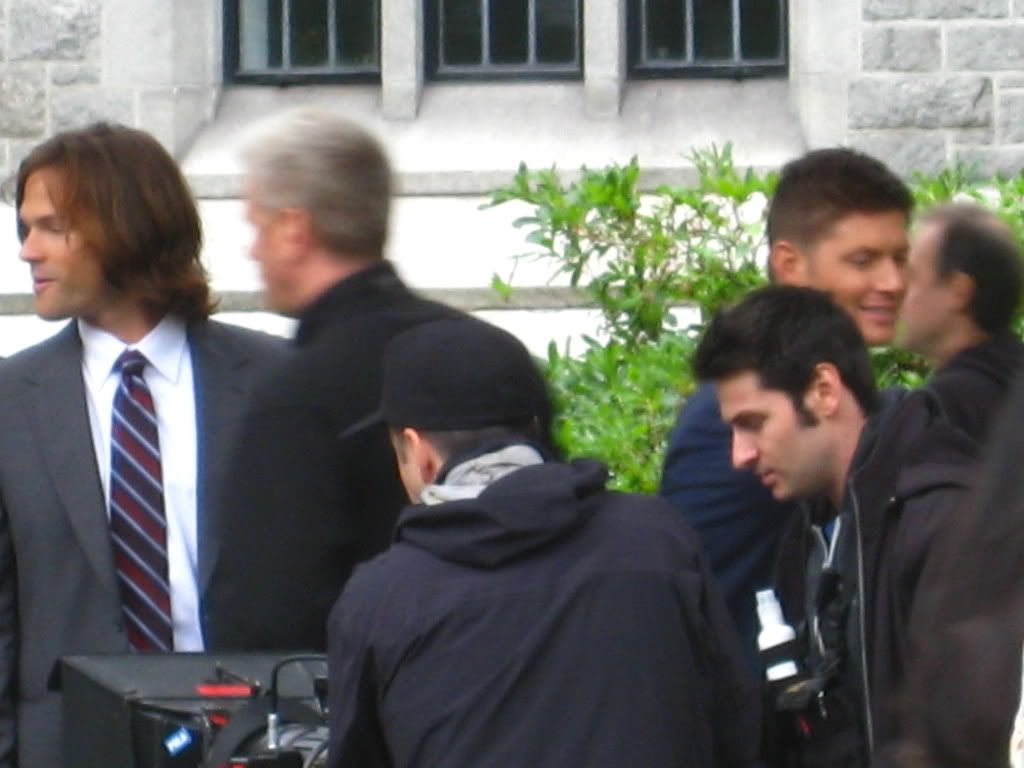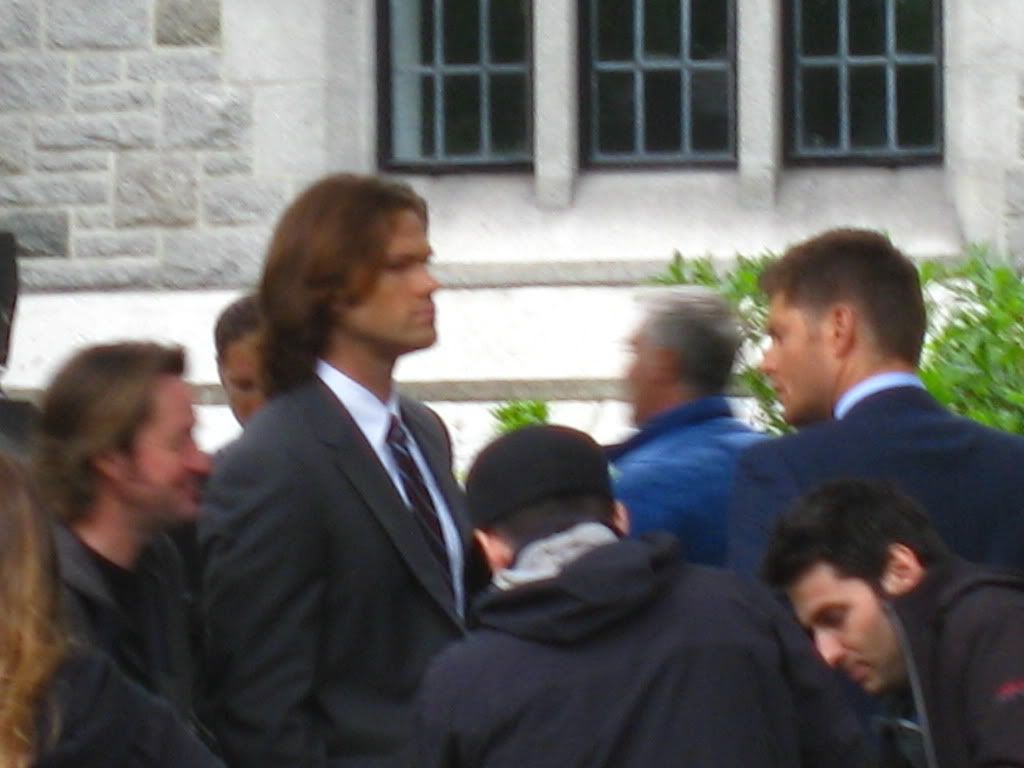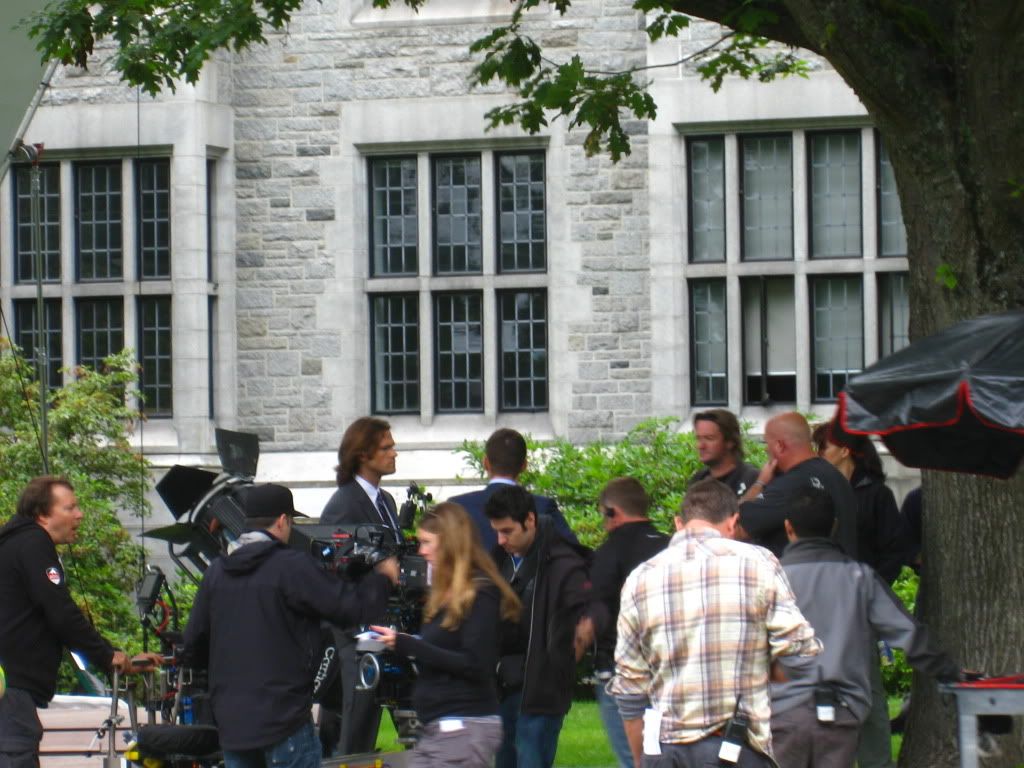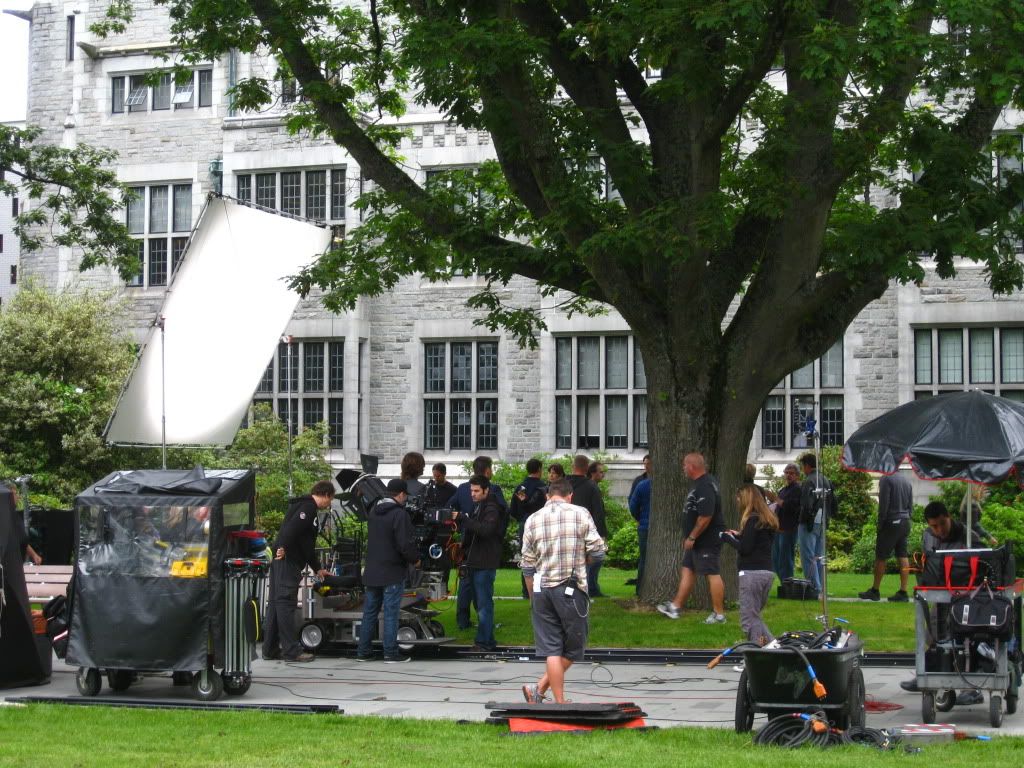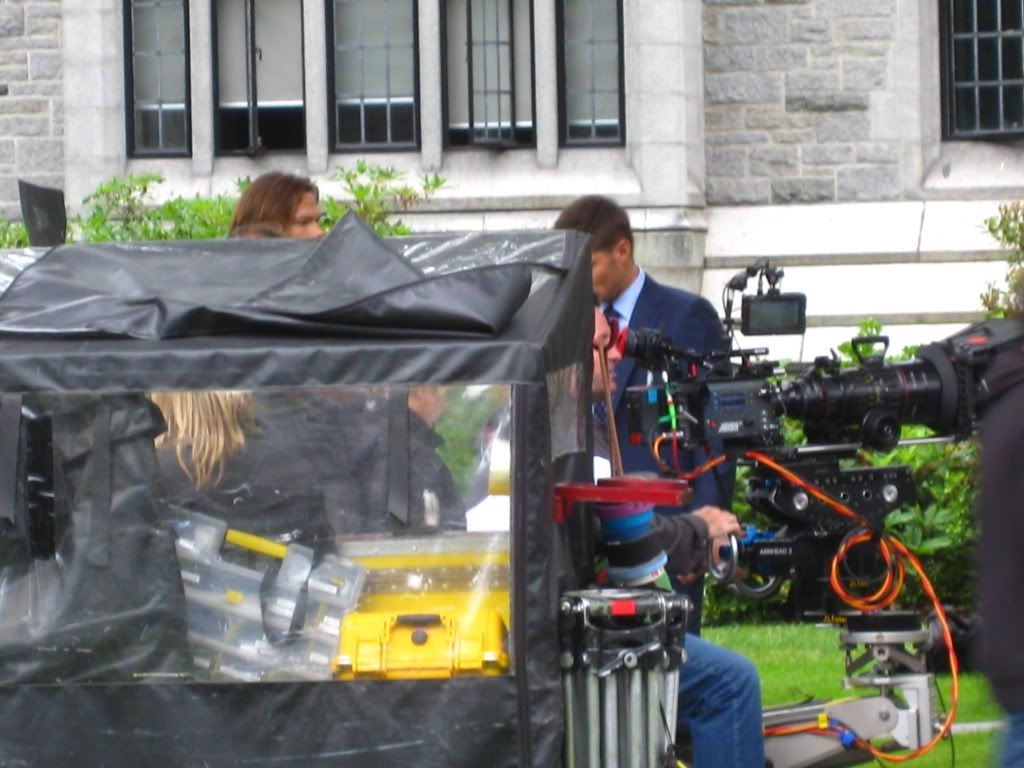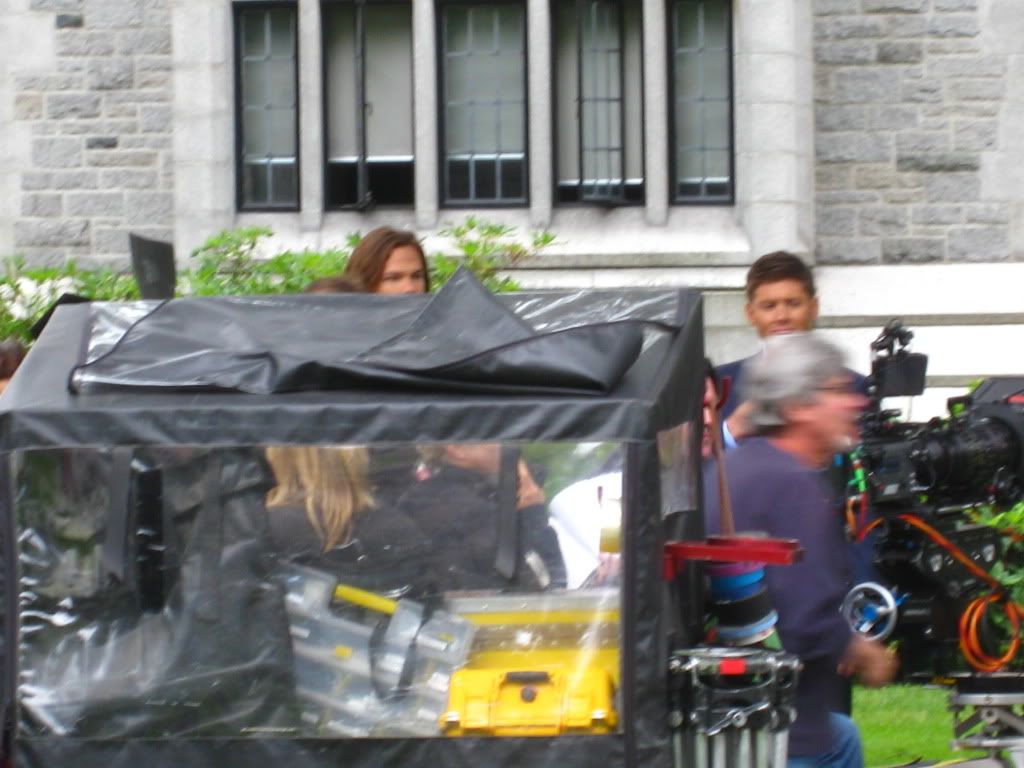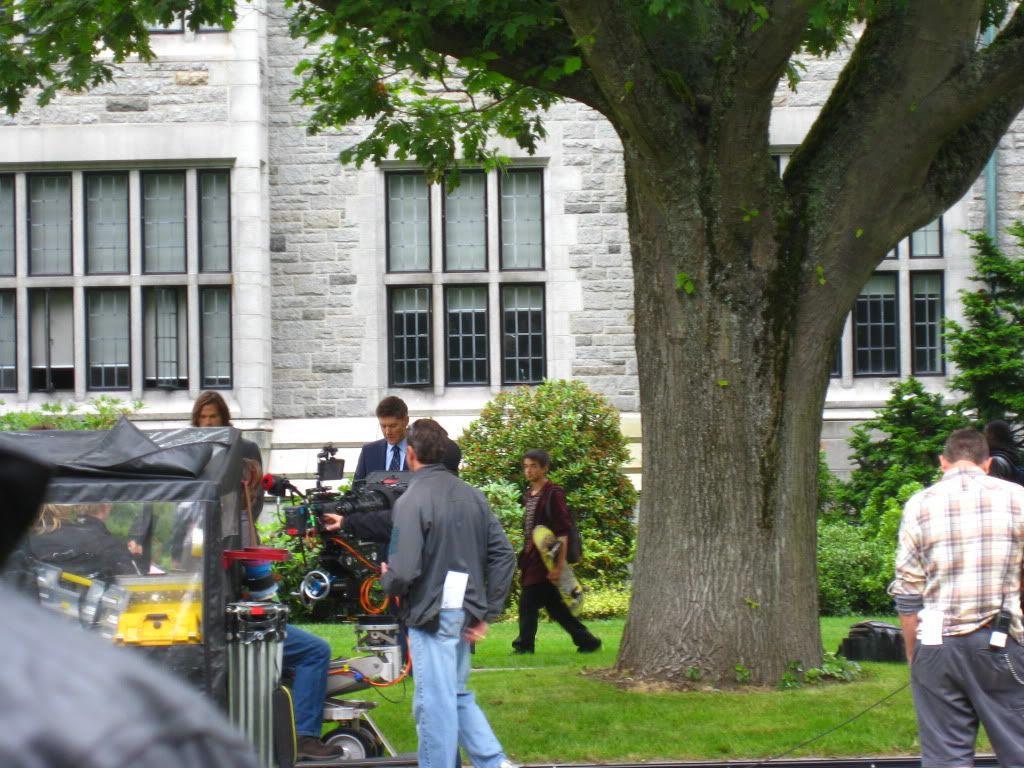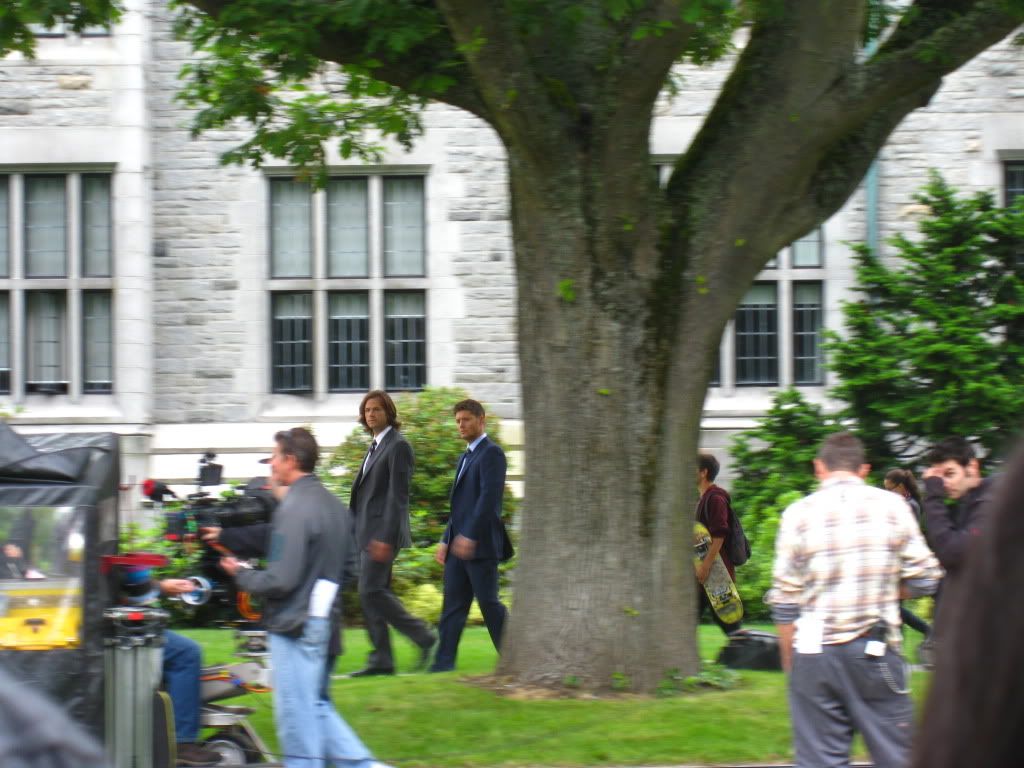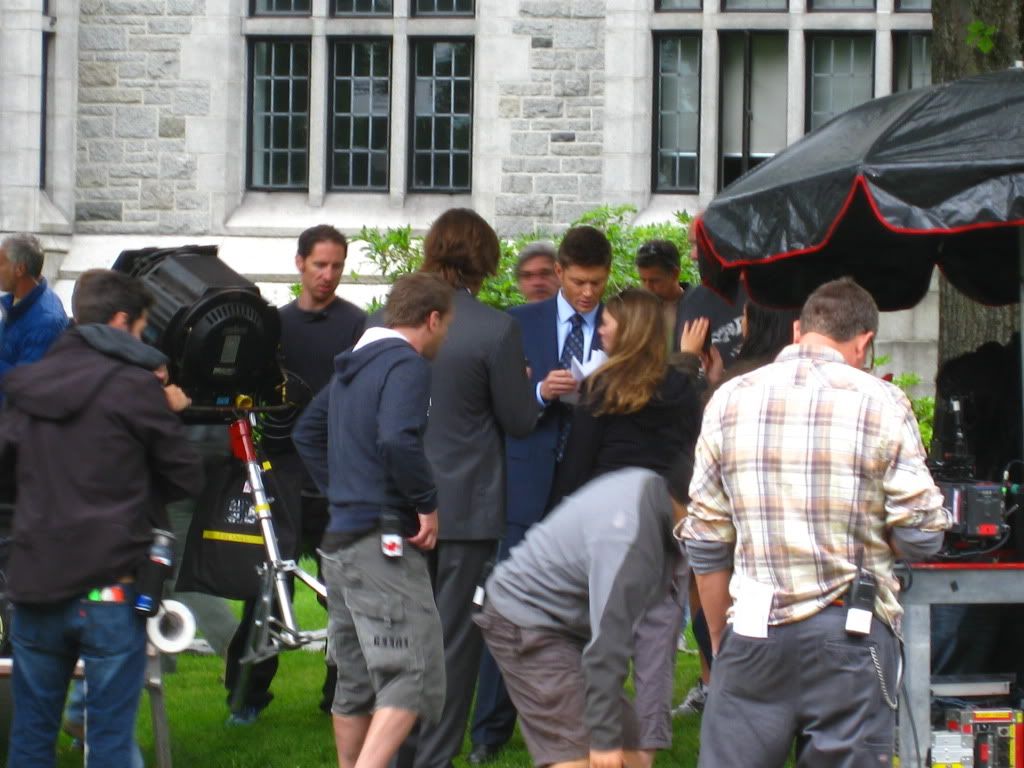 After shooting the scene, they walked across the mall toward the burger place, where the next scene was set up. They were playing a football that looked pretty new, wonder whether Jared got it for his birthday. Jensen threw it to Jared first. Jared held the ball, stretched his arm back couple of times, they called out for the crew member to pass the ball. The crew member caught it, which won him a "Nice!" from Jensen. Then he threw the ball back at Jared, who caught it by crouching down a little.
They sat in front of the burger place for a while. Probably going through the next scene. There were a lot of crew members crowding them. So my respect goes to the people who could get a picture with only J2 sitting at the table. Most of the time I couldn't even see them, not the entirety of them anyway. Then J2 got up and talked with the crew for a little while. They both looked relaxed and happy. Jared was talking animatedly about something giant, waving his hands and arms to gesture the dimension. Then they left with Cliff, probably going back to their trailers to rest. Their stand ins sat on the same spot, probably getting ready to do the prep work.
I should have stayed longer to watch J2 working another Fraturday. But the weather was miserable and I didn't have my winter jacket on. Also sorry no football tossing pics. I was so mesmerized in watching!
All original sized pictures can be found here. Feel free to take and to re-post.
http://photobucket.com/20120720SPNUBC
There are couple of videos clips of J2 filming, but not very clear, in the same photobucket folder.
Cheers!